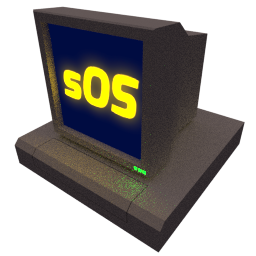 sOS
A downloadable game for Windows and macOS
You have managed to access the top secret secure system of SPACE HQ. Can you use your wits (and trusty Hack Boy™ hacking tool) to steal the precious SPACE PLANS without being caught?
A Ludum Dare 36 Jam entry by Arne Roomann-Kurrik, Kalev Roomann-Kurrik, and Wes Goodman.
---
WebGL version available at eg.regio.us/ld36/webgl/

---
Note: "JAM ENTRY - sOS-1.0.0-xxx.zip" are the versions we submitted in time for the Ludum Dare Jam deadline. For the purposes of judging, these are the versions which should be used.
The updated versions have been tweaked to make the game play smoother / more fun. The changelog is:
v1.0.1
ca0bc0b Fix ASCII art
a986308 Change Hackboy screen colors on output
ecbc1cf Warn player if attempted hack is missing modules
cad1780 1.0.1 OSX release